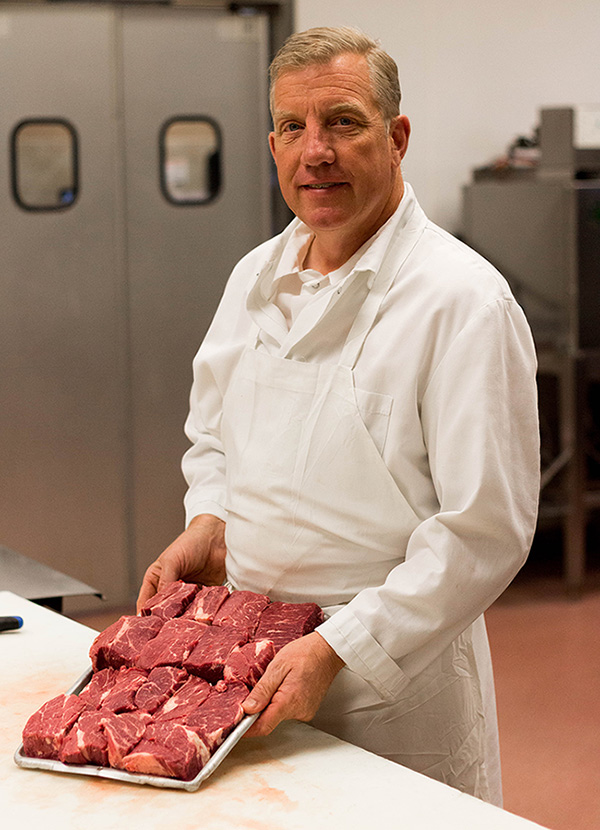 A little more about Stephen
Master Butcher Stephen Boyer brings unique culinary experiences to the Country Butcher and their affiliate company, Country Catering. He specializes in traditional German sausage making, curing and smoking of hams and bacons, and artisan meat cutting; all skills passed down to him by a German Master Butcher, Helmut Wagner.
Stephen apprenticed with Wagner after attending a seminar at Alfred University where Helmut was teaching. Stephen spent many months at Helmut's shop in Erie, PA, learning hands-on skills in meat processing, preparation, and presentation. Wagner also spent time with Stephen at the family's 80-acre farm and processing plant in Tolland, CT where he shared recipes and tips that are, to this day the basis for the exquisite flavors in meats sold at The Country Butcher.
These recipes have earned The Country Butcher over 100 awards both regionally and nationally, among them:
• 2017 PAMP* Reserve Grand Champion - Boneless Ham
• 2017 PAMP Grand Champion - Roast Beef
• 2017 PAMP Best in Beef Award - Roast Beef
• 2016 AAMP Reserve Grand Champion - Bacon, Whole Muscle Jerky
• 2013 AAMP Reserve Grand Champion - Natural Casing Frankfurters
• 2012 PAMP Best of Show - Thuringer
* Pennsylvania Association of Meat Processors
Some of the 'famous flavors' Stephen has created at The Country Butcher include: hickory smoked, apple, double smoked Black Forest, apple cinnamon, and Paprikova - a Hungarian style bacon.
A native of Connecticut, Stephen and his wife Cathy first opened The Country Butcher in 1989 in Ellington. They quickly out ranked their top 6 grocery chain competitors with the exceptional quality and distinct flavor of their meats, combined with fresh and unique side dishes, sauces, condiments and other value-added items to meet customer's culinary needs. They relocated the meat plant and farm store to the family farm in Tolland, with a devotion to culinary craftmanship in their own meats and those brought in from other exceptional purveyors of fine meats and epicuran delights.
The Country Butcher is a family run business with hands-on help from Stephen and Cathy's three sons, Alexander, Benjamin, and Nicholas. Stephen has expanded his culinary offerings to provide catering services for private corporate and social events with Country Catering. Plus, there are exciting plans to continue growing into the future.